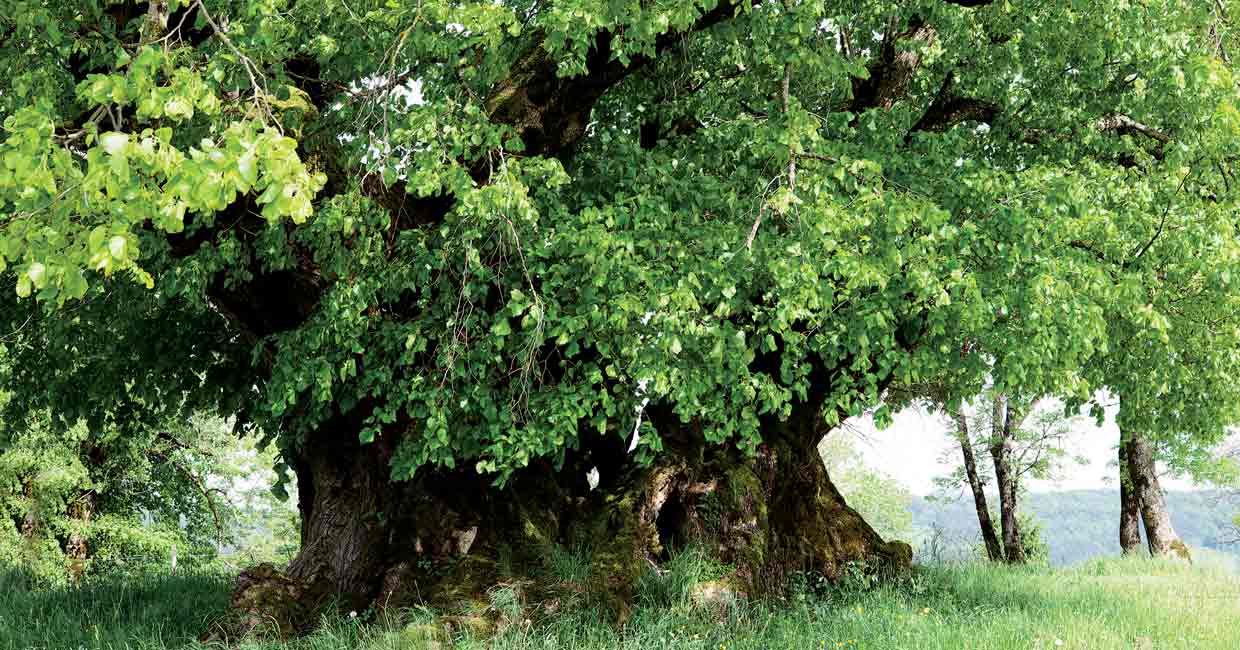 Solid wood : Focus on wood species
By Sanijura l Published on the 06/01/20 at 10:00
To know all about the wood species offered by Sanijura, and to be able to choose the best suited solid wood furniture for your bathroom, you are at the right place. Oak with knots, first choice oak, walnut … Find all the explanations below.
Oak with knots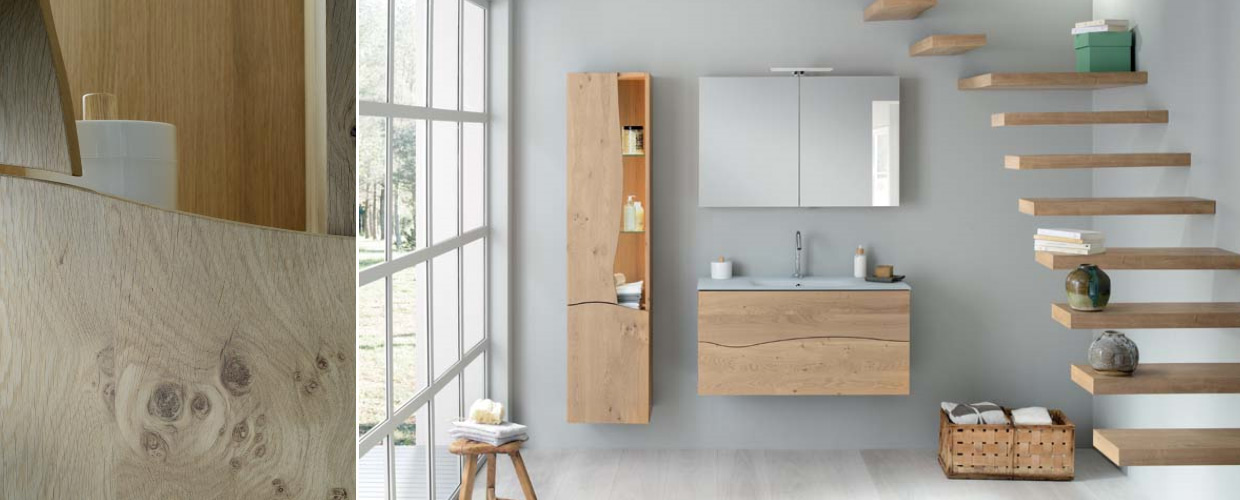 Photo 1: Sherwood range, zoom on a solid oak column / Photo 2: Sherwood range, "chêne naturel" set, solid oak with a ceramic vanity top
The particularity of oak with knots is that it has natural "defects" that are assumes, such as colour differences, and as the name suggests, knots. The furniture is worked as to keep the authenticity of the material. This particularity brings a warm and Scandinavian touch to your bathroom and reminds us also that wood is a living material and that each piece is unique. You will find this species among the Colombine, Sherwood and Eleven ranges.
First choice oak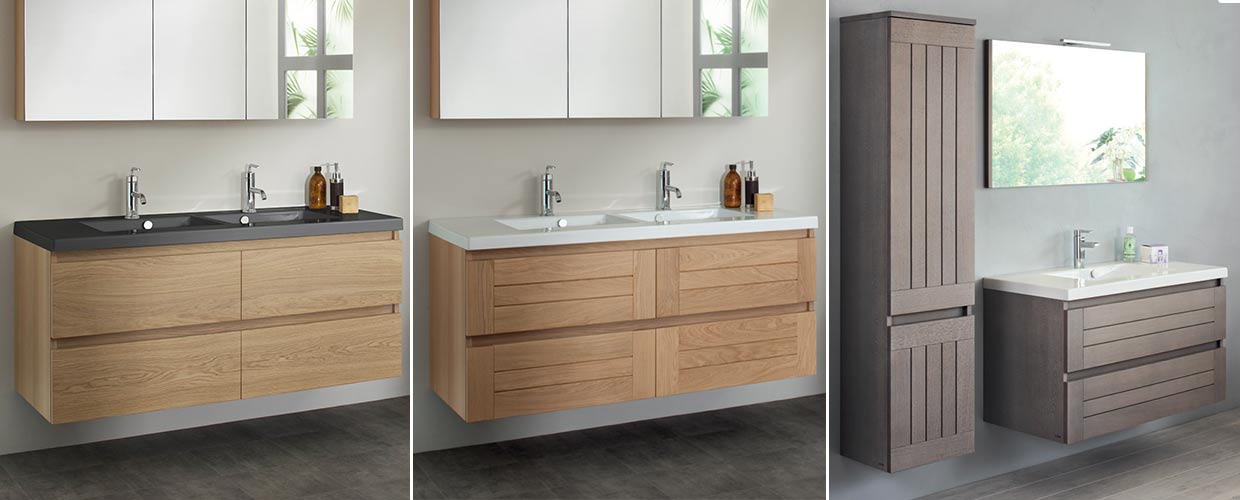 Photo : Lignum range, solid oak or "havane" set, smooth or laminated finish
Unlike oak with knots, the first choice oak doesn't have natural "defects". It offers linear and regular solid wood furniture. This type of essence will be suitable for bathrooms with a contemporary style. You will find the first choice oak among the Lignum and Illusion ranges.
Walnut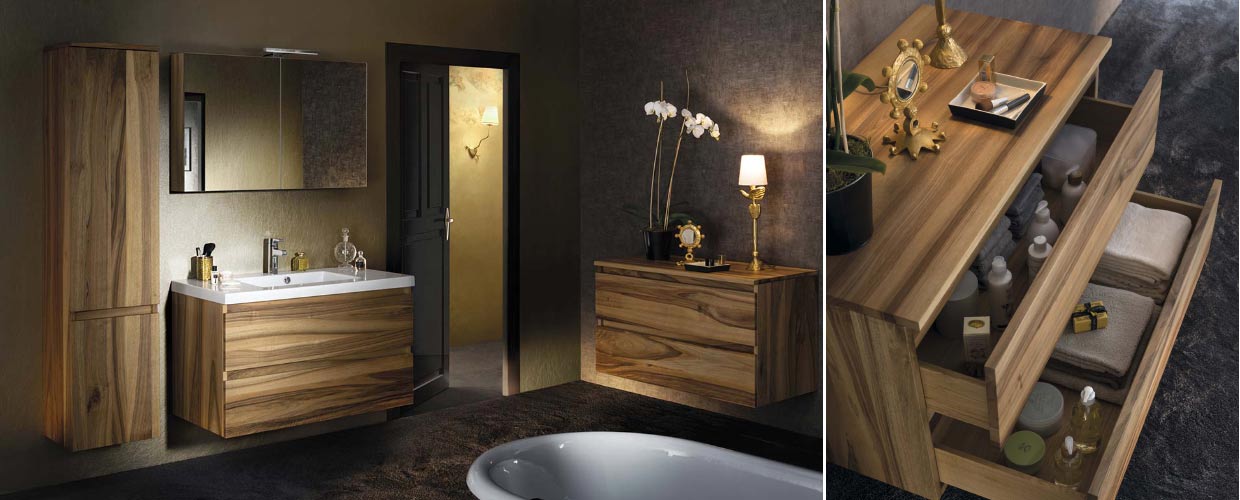 Photo : Lignum range, "noyer naturel" set solid walnut with a ceramic vanity top
The third species used by Sanijura is walnut, a dark noble and high quality wood. With a marked and irregular veining, its particular design will not go unnoticed in your bathroom. It will find its place in vintage and elegant interiors with an interest in art. You will find walnut among the Lignum range.