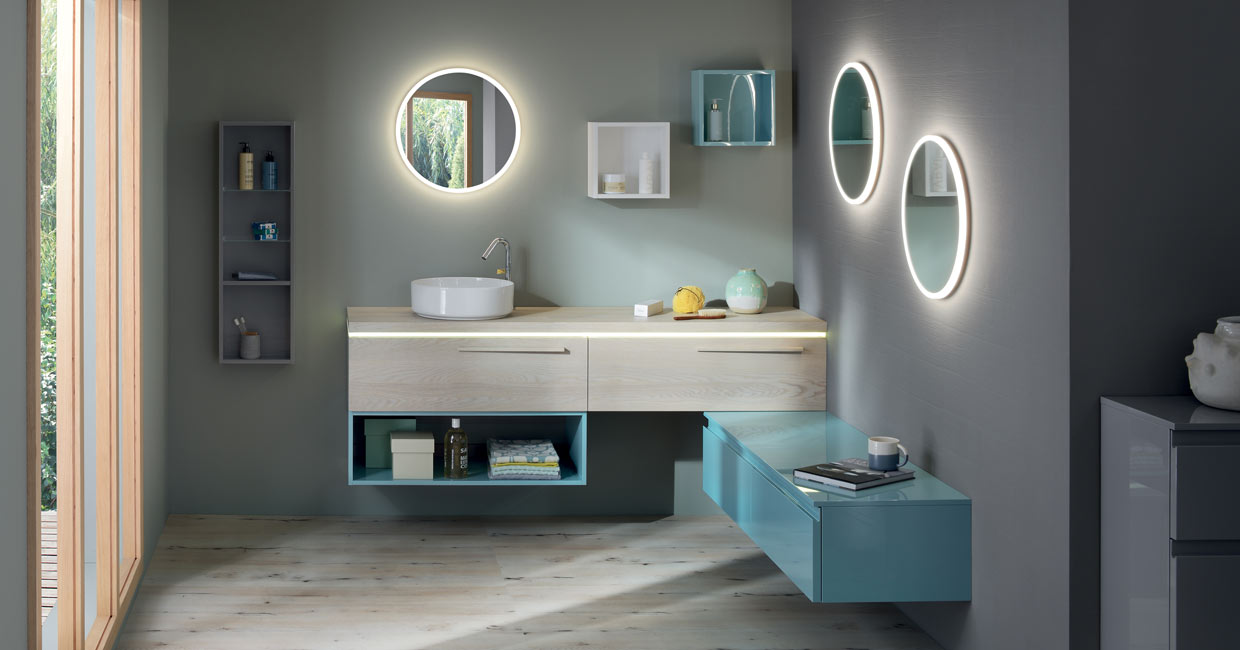 solid wood : At the heart of Scandinavian trend
By Sanijura l Published on the 06/01/20 at 10:00
You certainly didn't escape the Scandinavian trend. If you like wood, light colours, refined decoration, faux fur, then this cosy style is for you! Sanijura will inspire you through this article to create the Scandinavian style at home.
Natural materials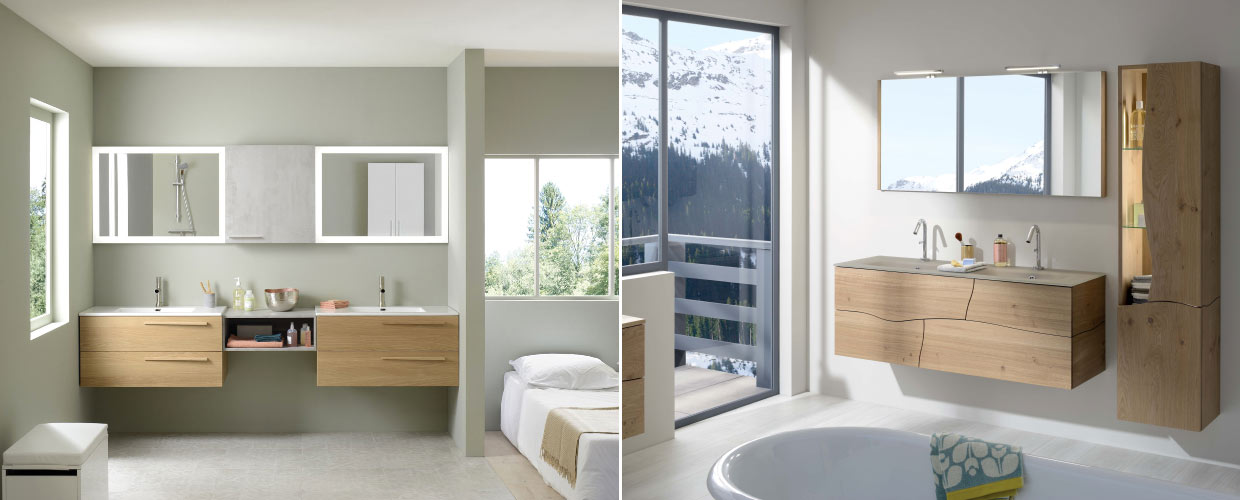 Photo 1: Halo range, "chêne naturel" solid oak and "béton gris" decor set with ceramic vanity tops Photo 2: Sherwood range, "chêne vieilli" set, solid oak with a "basalte givré" glass vanity top
As you may have noticed on Pinterest, the most used material in the Scandinavian style is wood. That's a good thing, since Sanijura has many ranges of solid wood bathroom furniture. Whether you have a large bathroom, a master suite or a small budget, you will inevitably find the set of solid wood furniture made for you!
Light colours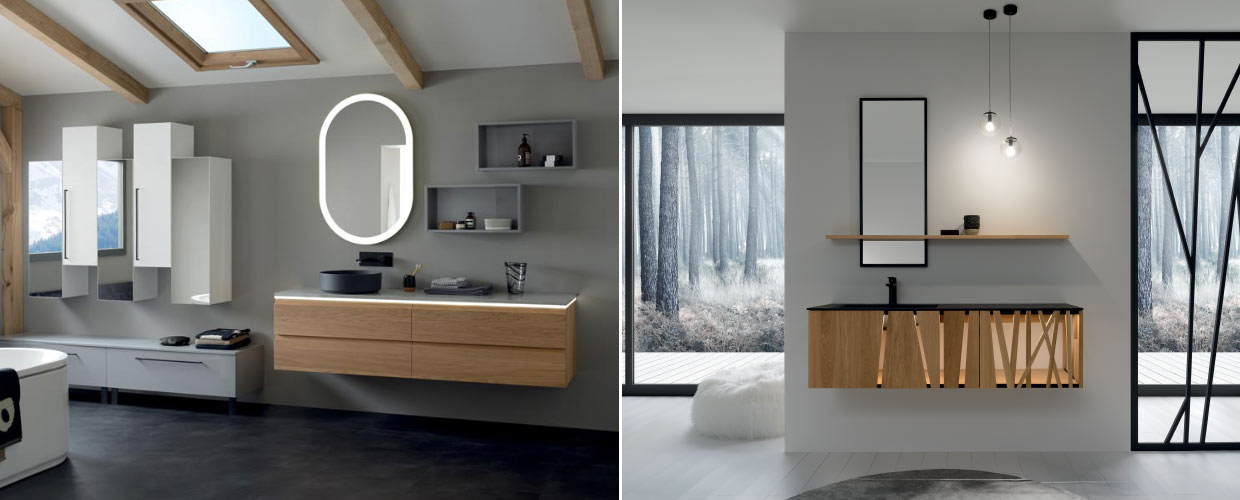 Photo 1: Lumen range, « chêne naturel » solid wood, glossy "gris souris" lacquered and "cuir blanc" decor set with a black ceramic basin / Photo 2: Colombine range, natural oak set, "chêne massif à nœuds" with a frosted black glass vanity top, a lacquered wood frame mirror and a natural solid oak table top
To complete your Scandinavian style, you will have to match your solid wood bathroom furniture with light colours: white, beige, taupe, from the ceiling to the floor. In addition to getting a beautiful rendering, this will lighten your room and bring a touch of brightness. Proof that Scandinavian rhymes with simplicity!
A simple but worked decoration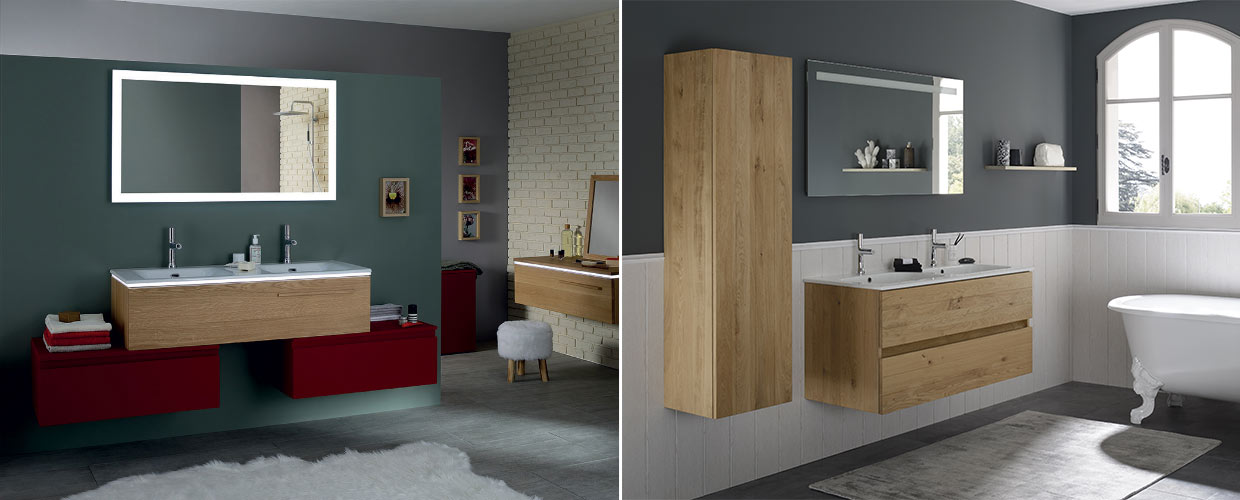 Photo 1: Halo range, "chêne naturel" solid wood and soft magma lacquered set with a ceramic vanity top / Photo 2: Eleven range, solid wood "chêne naturel" set with a white ceramic vanity top
Finally, a detail not to be neglected is of course the decoration! It must be discreet and not overload the room. Choose candles, small wooden frames, carpets and faux fur stools to create a cosy and cocooning atmosphere. The bathroom is mainly a wellness area, so don't forget to choose your decoration according to that!