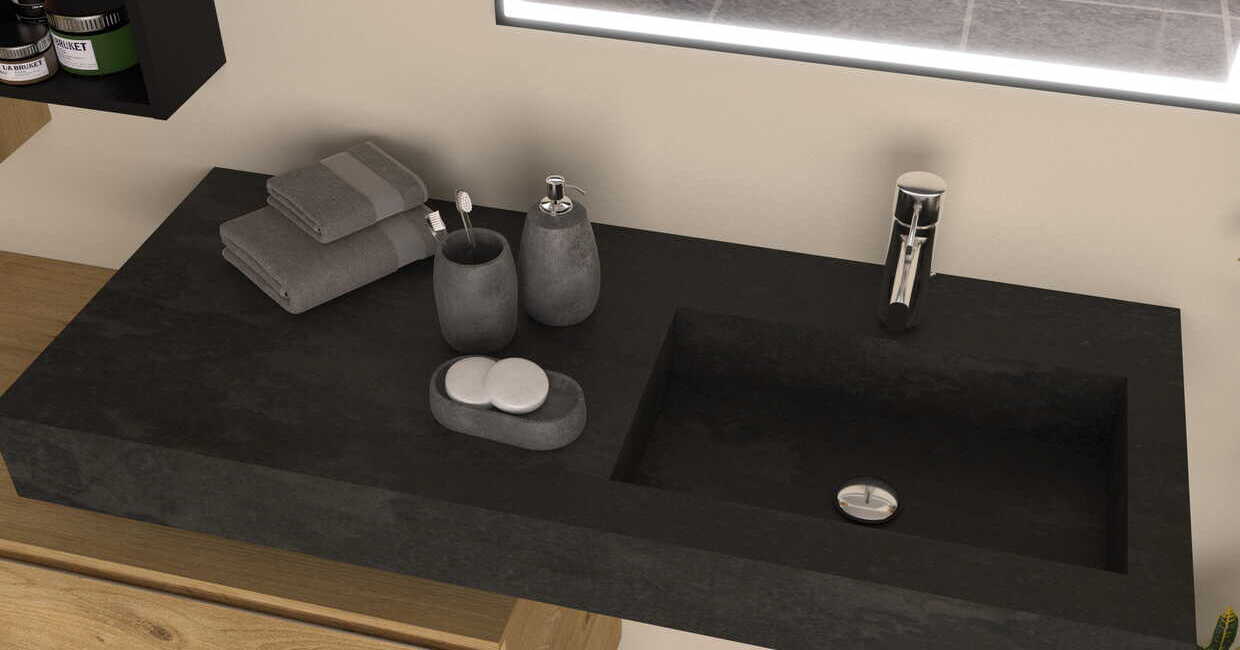 HOW TO GET MY BESPOKE BATHROOM JUST RIGHT?
There's an infinite number of possibilities when it comes to creating your made-to-measure cabinets. This wide choice means it's possible to adapt to any kind of bathroom. Your furniture is therefore sure to be just right for the well-being space in your home. So many aspects to play with: materials, colours, shapes - which is why in the end, you are sure to have the furniture you dreamed of.
With its wealth of know-how in designing and manufacturing bathroom furniture, Sanijura can help you to create your heart's desire. A made-to-measure creation designed to bring your bathroom project to life. With its local production facility and over a century's worth of know-how, Sanijura can go beyond the ranges on offer on its website to create bespoke bathrooms. You're free to choose a different finish, to add an additional module, and so on. Just tell us what you want to "tailor" and we'll look into precisely how it can be done.
Who hasn't dreamed of having cabinets that fit perfectly into their shower or bathroom?
Why choose bespoke furniture for your bathroom?
One good reason for choosing made-to-measure bathroom cabinets is to be sure they will fit perfectly into your space. The more carefully designed and adapted to the room your cabinets are, the more comfortable you will feel in your bathroom.
Depending on the layout of your shower or bathroom, with bespoke furniture you can have a supremely well thought-out and optimised space. That is something that is appreciable in any type of household, whether you live alone, with a partner or with children. Everyone hankers after a practical bathroom that makes the most of the space available. The important thing is to take your time to plan and configure the room.
At Sanijura we no longer have anything to prove when it comes to designing bathroom furniture. Quality cabinets are essential if you are opting for bespoke. And at Sanijura, we are constantly thinking about the best solutions to provide you with quality furniture. Our experts think of everything so they can be sure the furniture will satisfy your wishes.
And you'll have one great advantage with bespoke furniture: the infinite number of possibilities it offers for your bathroom. You can choose different materials, colours and so much more. Perhaps you have seen a Sanijura cabinet you like, but it only comes with a lacquered finish, whereas you would like melamine? We can make it to your specifications - all you have to do is ask our experts. The possibilities are endless and entirely personalisable, giving you the freedom to design the furniture of your dreams. In addition, you can give your home a truly original look with attractive matching design furniture!
How to choose my bespoke bathroom furniture ?
Thanks to its decades of experience and know-how in crafting bathroom furniture, Sanijura will handle the design of your furniture in masterly fashion.
Do you have plans for a bespoke bathroom, but you don't know where to begin? You are in the right place. We are going to guide you, taking account of your wishes and preferences as well as the feasibility of your planned layout.
For a made-to-measure cabinet, the first essential step is
to
know what you want:
How much space do you have available in your bathroom? How do you want to fit it out? What is the floor area of your bathroom?
What is the maximum amount you want to spend on your bespoke bathroom?

What will you need? How many cabinets will be necessary? What kind of cabinet with what kind of storage inside?

How do you use your bathroom? Think about your needs in terms of space and layout. Is it going to be a family bathroom, a children's bathroom, a couple's bathroom? All these things will define the type of furniture you need.

What colours and materials appeal to you? If you want to be sure your cabinets fit in with the ambience of your bathroom, made-to-measure will be the best choice for you.

After that you will need to think about the technical aspects of your project:
Choose the right measurements: what length do you need? Do you want a deep cupboard, or one that is not so deep to gain floor space? Which would be best, a long cabinet or rather a short one?

How many levels do you want your made-to-measure cabinet to have: 1, 2 or 3? What do you think will be the most practical?

Choose the type of cabinet and the type of basin: single or double vanity basins? How will the basin be positioned if you choose to have just one? To the left, to the right, in the middle? You also need to think about the type of washbasin: recessed or countertop? Made of what material?

Accessorise your cabinet to make your bespoke bathroom truly unique:
After you've made the technical choices, you can think about the accessories. Think about mirrors especially, as they will make your room feel bigger and bring light and elegance to complement your bathroom cabinets. For example you can match the mirror frame to the colour of your cabinets, for a harmonious effect made possible thanks to made-to-measure.
Ideally when you opt for made-to-measure, you can choose your storage solutions and drawer separators to gain space in the room.

You can also add items such as a hair dryer holder, a magnifying mirror, cupboard legs, light fittings, and you can even choose the handles that best serve your purposes.

You might also want to think about other possibilities such as a matching cupboard for your utility room, wall cupboards, a wardrobe, a stool with storage, etc. Made-to-measure furniture opens the door to all these options and more. We take your plans and do our best to satisfy your desires, so feel free to give rein to your imagination. For example, we have already designed a bespoke walk-in wardrobe to match the en-suite in a master bedroom: everything was designed down to the last centimetre.
However, if you are short on ideas or you don't know where to begin, don't hesitate to consult our selection guides, talk to our professionals and consult our social media pages to find some inspiration.
A few hints that will help you to design your perfect bespoke bathroom
Use the height right up to ceiling to expand the room and create a pleasant bespoke space.

Think carefully about the materials to be used: a mix of materials or a monochrome effect? Everything to match? It all depends on what you like - that's the most important thing in made-to-measure.

Choose accessories to embellish your interior. Did you know that they have lots of different functions? For example, a large mirror will make your room look bigger, choose a tinted mirror to blend in with your cabinet, a square mirror will bring an original touch. You can also choose niches, wall columns, half-columns, for a totally practical bathroom.