Orbe, the iconic mirror by Sanijura
With Orbe, Sanijura breaks the codes by inventing a back-lit mirror in an extra-large semi-circle. Extremely graphic, the Orbe mirror is inspired by Nature and transports us to the beautiful sunsets on the Jura lakes. Its felted light, its rounded shape and XXL size create a surprise effect and bring a touch of design to your interior.
Orbe, a back-lit mirror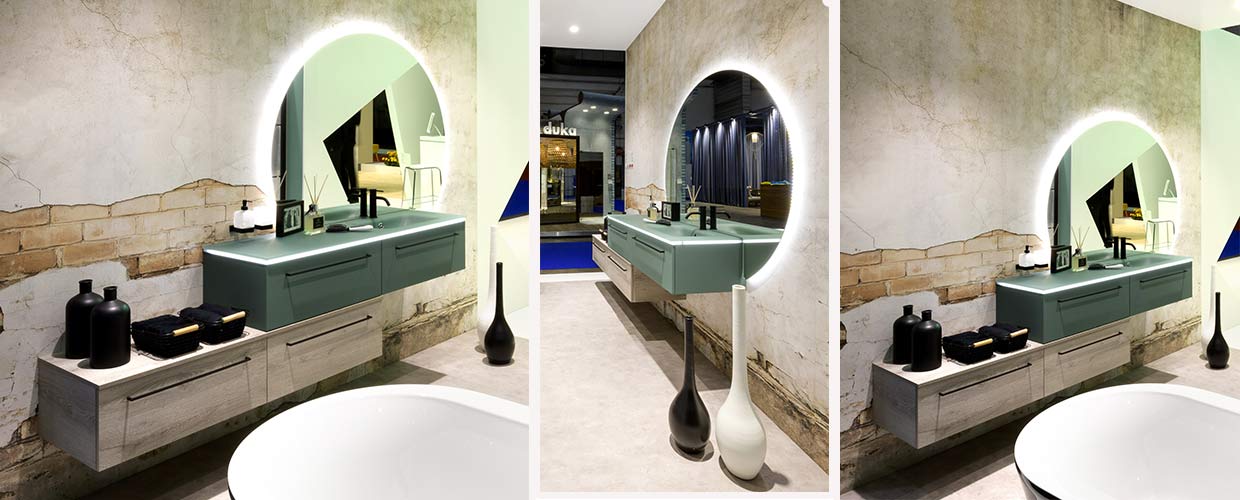 Photo: Halo range, soft "eucalyptus" lacquered set and "chêne heritage" decor set with "eucalyptus" glass vanity top, Orbe mirror
Just like the majority of our Reflet range, Orbe is a mirror with built-in lighting. Its LED strip is placed at the back of the mirror in backlight. This large circle of light brings a soft and natural luminosity to the room. Its large reflective surface offers a great depth of field and a beautiful trompe-l'oeil perspective to visually enlarge your bathroom.
Orbe, a functional and design mirror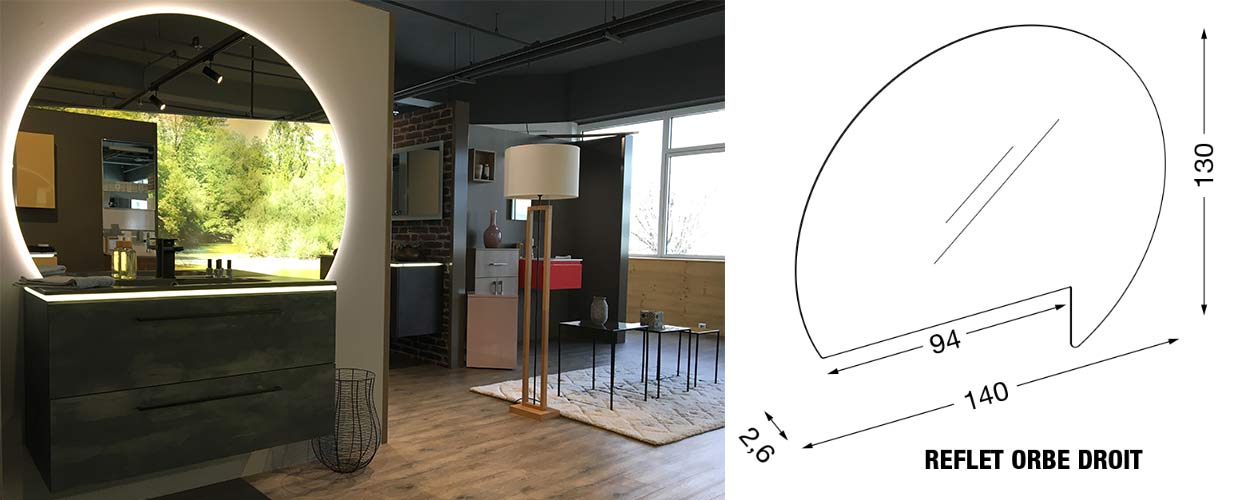 Photo: Lumen range, « taloché bleu » decor set with a graphite ceramic vanity top and an Orbe mirror
With its semicircular shape, the Orbe mirror creates a new visual and functional experience in the bathroom. Its large format protects the wall from projections, without having to install tiles. Available in two versions, the Orbe mirror can be placed on the left or right side of your furniture, to suit all bathrooms. It can also be placed as an ornamental mirror in a living room or an entrance. Make sure you choose an adapted faucet (Note that the space between the credence and the axis of the valve limits the compatible models).
Orbe, the mirror inspired by Nature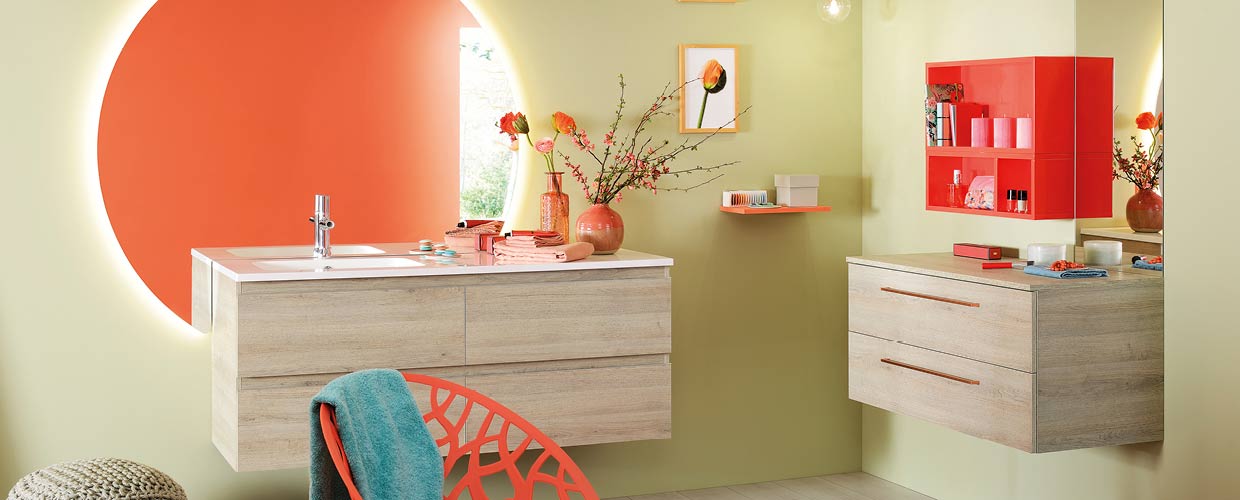 Photo: Lumen range, « chêne Alabama » decor set with a white synthetic vanity top
To celebrate the arrival of spring, Sanijura is inspired by the Coral color and Nature to offer a bathroom with soft colors and vitamins. The Orbe mirror becomes the centerpiece of this bathroom fitted with furniture from the Illusion collection.
Orbe, a mirror adapted to mono-basin furniture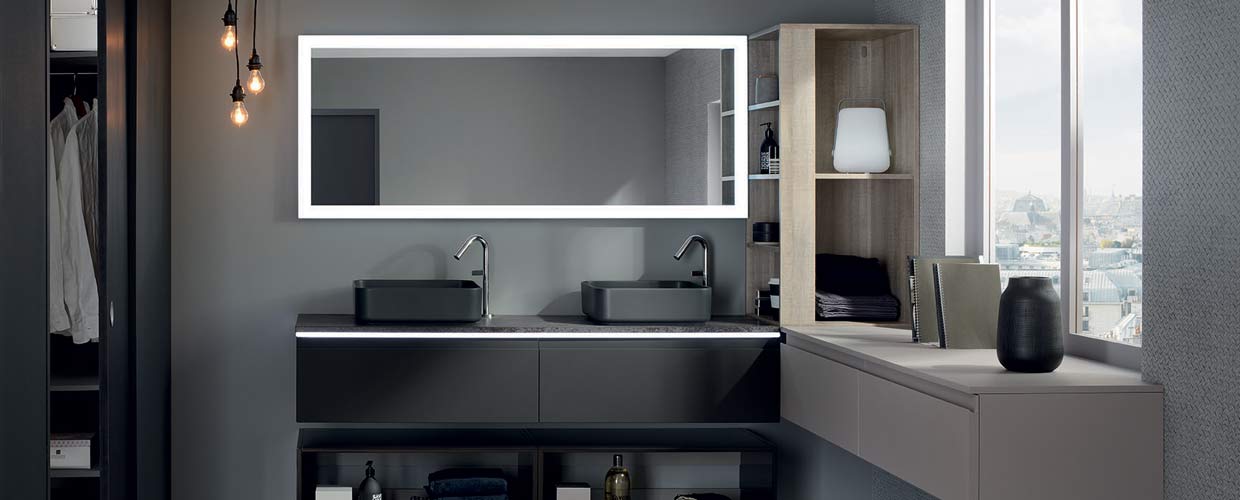 Photo: Halo range, soft black and titan grey lacquered set and "chêne gris" decor set with an oxyde black cératop vanity top with a ceramic basin
The Orbe mirror is 140 cm wide, but its rounded shape won't cover the full width of your vanity unit. For bathroom furniture with double basins, we will therefore prefer more classic mirrors such as Vario, Oblong or Luz (it measures up to 180 cm wide) from the Reflet range. For industrial decoration lovers, the new Triptyque mirror is also an alternative.